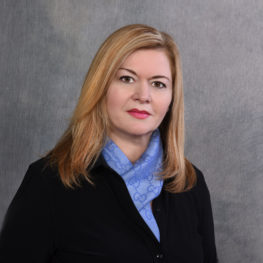 Natalia Homedi, PE
Founder, President and CEO
Founded Atlas Engineering Group, Ltd. in 2007. Natalia's passion for Infrastructure and Transportation Engineering are attributed to her late father, Roman T. Mycyk, an innovative Civil Engineer for the United States Geological Survey (USGS) and a Veteran of the United States Army.
Natalia served as the Consultant Drainage Studies Engineer for IDOT, Project Manager for the Illinois Tollway, Planning and Design Departments and served as a Project Manager at several consultant firms on Phase I, Phase II and Construction Management project teams. As a long-time Professional Engineer and as President and Founder, Natalia's vision for AEG's future includes promoting growth, significant partnerships with clients and industry firms, open collaboration and shared success. Some of Natalia's responsibilities are managing the daily firm activities, quality assurance and market expansion.
Natalia obtained a Bachelor of Science in Civil Engineering from The University of South Florida. Natalia's drive to become a Leader in Engineering fueled her desire to found her own engineering firm. Her goal is to create a diverse firm which will inspire and develop leaders and innovators, who will promote positive contributions to society. Natalia is a Leader who is dedicated to serving as a Co-chair of the Illinois Tollway's Diversity Advisory Council (DAC) and serves on DAC's Programs Committee, including the development of Mentor-Protégé standards. She is also Chair of the ACEC, IDOT Construction management Subcommittee. Natalia is affiliated with Institute of Transportation Engineers, Illinois Section (ITE), American Council of Engineering Companies of Illinois (ACEC), American Public Works Association (APWA), American Society of Civil Engineers (ASCE),  National Organization of Minority Engineers (NOME),  the Illinois Black Chamber of Commerce (ILBCC), American Railway Engineering and Maintenance-of-Way Association (AREMA), Maintenance of Way Club of Chicago, and the Hispanic American Construction Industry Association (HACIA).
Natalia serves on several additional ACEC, WTS, NOME committees, dedicated to promoting diversity in the engineering field.