Exciting opportunities are available to join Atlas Engineering Group, Ltd. (Atlas), a professional licensed consulting firm specializing in civil/transportation/rail design engineering, structural design engineering, water resources, construction management, surveying, and program management. Work out of our offices in the City of Chicago (right on the Chicago River), Northbrook, IL, or Valparaiso, IN. Flexibility to work remotely part-time. Seeking staff with a positive, pro-active attitude, who are integral to the foundation of our organization, and the key to everyone's success. Join a team with a culture which welcomes everyone's perspectives and voices and become a part of a dynamic organization that delivers a passion for what we do and a vision for enhancing the communities and ever-changing environment that surrounds us.
Atlas is seeking Transportation Project Engineers in our Civil Engineering/Transportation/Rail Divisions to join our evolving Team. This position is responsible for leading a staff of design engineers and technicians in all aspects of design and plan preparation for roadway, highway, and rail Phase I/II Transportation/Civil engineering projects. Responsibilities include proactively managing the project's technical requirements and project communications for the delivery of quality work, on time, within budget and to the client's satisfaction. Our clients vary from federal, state, and local governments; railroads and transit agencies; and collar county DOTs.
This position will work in a team environment, make sound engineering decisions, provide direction to staff, and coordinate the workload of projects. The Project Engineer will lead and review work of the project delivery team; check work through QC procedures; monitor progress; identify changes of scope and additional services; mentor staff; collaborate with all team disciplines: and assist Project Managers to manage the project scope, budget and schedule. Duties also include multi-discipline project coordination inclusive of survey, grading, drainage, structures, utilities and layout of various site items, and other duties as needed.
The successful candidate will be given the opportunity to develop and maintain client relationships, assist in proposal development, participate in interviews, and be a visible and active member of the transportation community through professional organization involvement. The position also involves assisting in the preparation of proposals, scopes, budgets, and schedules; day-to-day communication (oral and written) with the client; support and advise junior engineers and technical staff; and manage sub-consultants. Atlas is committed to assist you in advancing your career, giving you multiple growth opportunities along the way in a collaborative culture.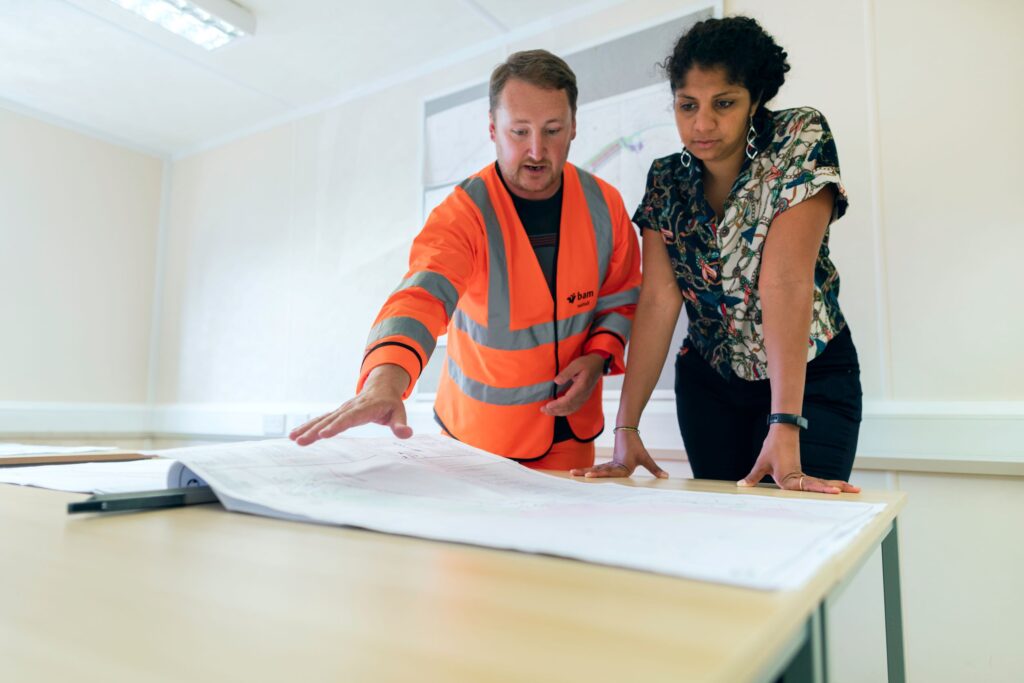 Required Qualifications
Bachelor's degree in civil engineering from an ABET/EAC accredited program
EIT/Fundamentals of Engineering Exam with ability to obtain PE licensure
2-4 years of experience in engineering design
Strong background in developing preliminary and final engineering deliverables
Preferred Qualifications
IDOT, Illinois Tollway, CDOT, InDOT, and CTA Experience
PE license in Illinois (preferred)
The ability to lead, develop, and mentor engineering staff as well as build a collaborative team
General Responsibilities
Applies a thorough knowledge of current principles and practices of engineering as related to the variety of aspects affecting the organization
Applies knowledge and expertise acquired through progressive experience to resolve crucial issues and/or unique conditions
Keeps informed of new methods and developments affecting the organization, and recommends new practices or changes in emphasis of programs
Works on programs of varying complexity and scope
Technical Responsibilities
Serves as the technical lead for the organization in the application of advanced concepts, principles, and methods in engineering
Keeps informed of new developments and requirements affecting the organization for the purpose of recommending changes in programs or applications
Interprets, organizes, executes, and coordinates assignments
Knowledge of hydraulics & hydrology a plus
Managerial Responsibilities
Supervises a staff of engineers and technicians
Assist Project Managers with project management and client relations
Plans, schedules, or coordinates the preparation of documents or activities for multiple projects
Proactively engaged in marketing and business development strategies and implementation
Computer Skills
Proficient in using MicroStation/Geopak, Bentley SS4 with OpenRoads Technology, and/or InRoads, MS Office, ProjectWise, IDOT and Illinois Tollway SS4 CADD workspaces. AutoCad Civil 3D and ARC GIS a plus
Communication Skills
Proactively interacts with clients, customers, officials, contractors, and others
Participates in project meetings and makes presentations
Represents the organization and maintains liaison with individuals and related organizations
Positive attitude with excellent oral and written communication and organizational skills
To Apply:
Send your cover letter and resume to HR@aegroupltd.com